How to organize closets after moving in your Manhattan apartment
Get Your
Free Moving Quote
If you ever wondered how to organize closets after moving, well too bad you came to the wrong place. But for real now… Moving to a new place is a golden opportunity to put everything where it belongs. If you are someone that loves to organize things or are a fashionista at heart, you don't want to miss this opportunity. After you selected moving companies New York of choice has dropped off all the boxes and furniture. Get started on assembling your closet. If you have separated all your clothing into seasons and marked all the boxes you will have an easy time setting everything up. And here is where the fun starts. In this short guide, we will be sharing with you an effective way how to organize your new wardrobe.
Tips and tricks on how to organize closets after moving
If you are as excited as we are let us start with the basics and then work out way up.
Reorganize your closet
If you haven't done this before you have packed now is an as good time as any. With all the boxes scattered around decide what to keep and what to get rid of. Clothes that are out of fashion or are old are a good starting point. Because of the organization, you have done, you will instantly have more room that needs to be filled whit new clothes. Everything that you discard this way, don't throw them out but donate them to charity. Spread the happiness, you will feel better and the people you donate your clothes to will feel grateful.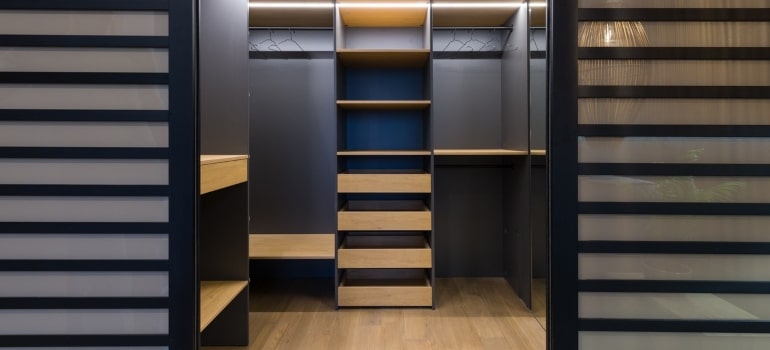 Make a storage plan
If you have already organized your clothes by season this will help you greatly. When beginning to store clothes in your new closet consider the season you are currently in. Depending on that start with the clothes that are in season at arm's reach. A good storing pan goes as follows: Moving from top to bottom.
On the weary top pack the clothes that are opposite of your season, if you are in summer your top shelf will hold winter clothes.
the shelf at eye level, this shelve will be reserved for clothes that follow your current season.
In arms reach or the middle shelf will be reserved for the current season.
And the most bottom shelve is reserved for the season that was before your current one.
And whit this sistem just take out the bottom shelf and move all shelves down by one and then put the bottom shelf on the very top.  Or just ask your moving service NYC of choice for advice, since they are pros when it comes to packing and transporting
Go shopping
This is where the fun truly starts, everyone's favorite moment, to feel the rush of buying new things. Replace or upgrade all the things you got rid of. You will have to be tactical with your choice here because depending on how good your moving quotes NYC was. You will have more or less money to spend. When buying new clothes consider these three factors:
If you find a good balance between the three-factor, those are the clothes for you.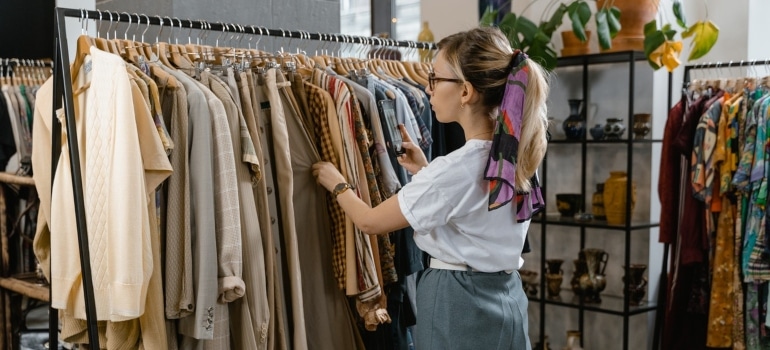 Finishing touches as you organize closets after moving
And sadly now we have come to the end on How to organize closets after moving. After all, is said and done and the moving to Manhattan is complete. Consider investing in multipurpose clothing, something that is unisex and one size fits all. Shure, it may not be the most stylish thing ever but it sure saves you money. We wish you all the fun in the world no this adventure.
Get Your
Free Moving Quote